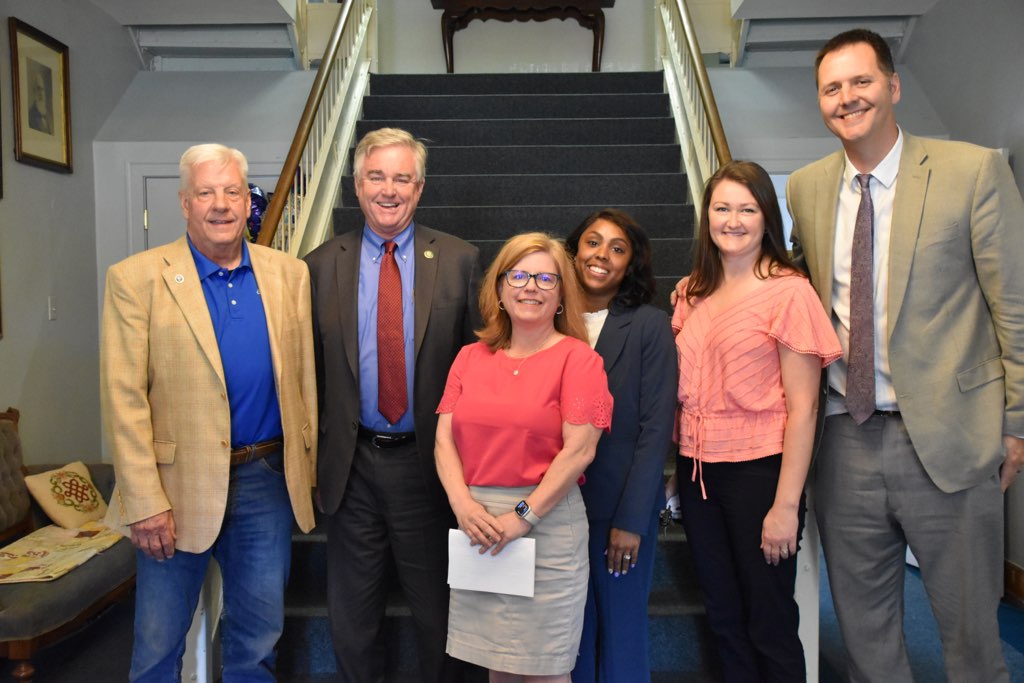 This past Friday, the leadership of the Jack E. Barr Center for Well-Being outpatient mental health clinic hosted a dialogue regarding mental health services and systems with Congressman David Trone and President of the Washington County Commissioners, John Barr. Also in attendance were other organizational staff and Nan Sheridan-Mann, Western Maryland Regional Director for Senator Chris Van Hollen.
As a part of the visit staff reviewed key mental health needs and community stressors heard from clients, as well as provider challenges on the front lines experienced by clinicians and administration interacting within a fragmented system of care.
Jerica Washington LCSW-C, Director of the Center for Well-Being, shared, "The state of mental health is always at the forefront with our ever-changing world. The Center is fortunate to be backed by a non-profit umbrella to decrease barriers to care such as denials and parity issues with insurance companies, and to be able to provide a wraparound model to provide unreimbursed services to support our aim to provide quality services. Collaboration with systems, businesses and others throughout our area and state is key to continuing our work."   
San Mar Family & Community Services CEO Keith Fanjoy LCSW-C, explored how to best respond to a variety of community needs, with a focus on sustainability and service integrity   "After an extended period of relative stability as an agency we are entering a season of growth to consider providing additional services, and as we explore how to meet community needs within our mission and expertise, we look forward to collaborating with community members, partners and elected officials such as Congressman Trone and Commissioner Barr."  Late next month, San Mar will convene key stakeholders and begin the journey to consider how to best position two legacy facilities on the Boonsboro campus.