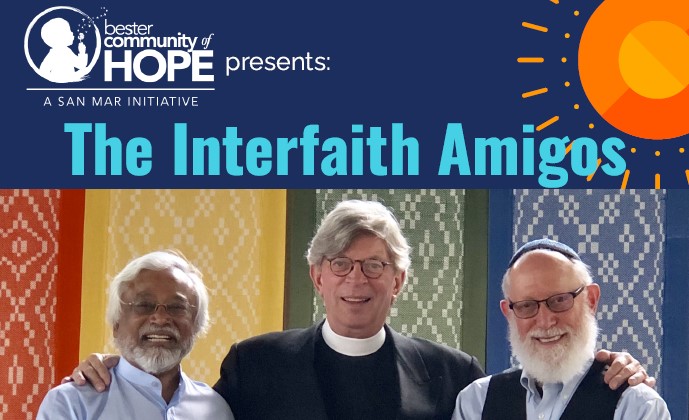 By Alexis Fitzpatrick, Herald Media
To encourage conversation and instigate a mutual understanding among those of different backgrounds, Bester Community of Hope will present the Interfaith Amigos in a virtual event on Oct. 27.
Neighborhood Partnership Coordinator Kerry Fair said as an organization, Bester Community of Hope has worked to engage with Hagerstown's faith community and institutions.
Organizations like the Hagerstown Area Religious Coalition have been doing interfaith work for years, and the faith community have been collaborative problem solvers. But Fair said there is always more work to do.
The group includes Imam Jamal Rahman, Rabbi Ted Falcon and Pastor Don Mackenzie. They have spoken all over the U.S., as well as Canada, Israel and Japan.
Starting at 6:30 p.m., the Interfaith Amigos will discuss the usual taboos of interfaith dialogue to create an authentic conversation between themselves and the audience, according to a Bester Community of Hope news release.
At 7:30 p.m., the Amigos will be joined by a local panel of faith leaders, including Rabbi Ari Plost of B'Nai Abraham Synagogue, the Rev. Don Marbury of Ebenezer A.M.E. Church, Interfaith Coalition of Washington County coordinator Virginia Wills and Wendi Perry, the director of the Hagerstown Area Religious Coalition.
Fair said those who have registered can submit questions about a week before the event. The questions will be organized into a few different topics for discussion.
"Through an authentic and courageous conversation, the panel will discuss the potential and challenges for interfaith collaboration in Washington County, as well as current societal topics that are impacting all of us," Bester Community of Hope Director Jen Younker said in the release.
The event is free and participants do not have to be associated with a Hagerstown or Washington County house of worship, according to Fair. She said organizers hope for a large audience of around 300 people who are "willing to have uncomfortable conversations and examine their own spirituality.
"The [COVID-19] pandemic has people questioning existence itself and everything else, so coming together is more important than ever," Fair said.
Preregistration is required at besterhope.org. Zoom instructions will be sent after registration.