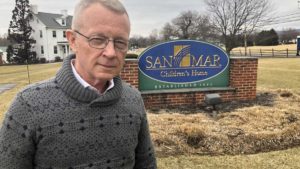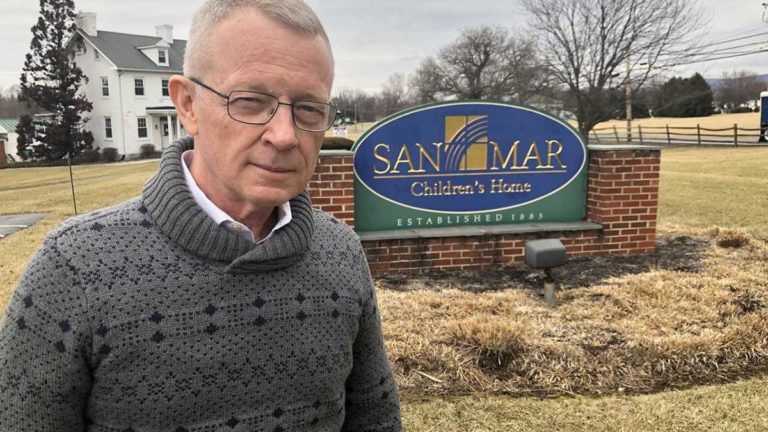 February 20, 2018
Herald Mail Media by CJ Lovelace
BOONSBORO — An older man hears a knock at the front door of his home in Franklin County, Pa.
Standing on the other side of the door is someone he had never seen before — a short man with brown hair, a wide smile and kind eyes. Unsure of the visitor's intentions, the man responds with skepticism.
"What do you want?" the man asks in a gruff voice.
Bruce T. Anderson made the trip to the mysterious man's home one day in the late 1980s, after learning that he might be planning to give $200,000 in his will to San Mar Children's Home. He told the man he wanted to confirm the rumor.
At first, the man denied he even had a will. And if he did, what did Anderson, the then-recently hired CEO of San Mar, want to talk about?
"If you did, then all I'd ever see is money," Anderson recalled telling the man. "And I suspect your life stood for something, but I don't have a clue what it stood for. I wanted to learn what your life stood for."
The man finally opened up, saying the money was part of a trust fund. He invited Anderson into his home.
"I sat with him for an hour as he told me his life story," Anderson said. "And then he picked up the phone and called his attorney. He told his attorney to take $200,000 from another pot and put it into our pot."
About five years later, the man died with about $600,000 set aside for San Mar, resulting in more than $1 million in accrued interest revenue paid to the organization over the years, Anderson said.
The encounter ultimately led to substantial financial support, but Anderson, who is planning to retire next month after three-plus decades, said his work, and life in general, has never been about money.
He said he simply tried to appeal to a person's natural desire to give.
"I think we're created to give," Anderson said. "… You don't have a need to give here, but you have a need to give. All I'm doing is presenting opportunity. And if I present opportunity enough, there will be people who will respond to that."
A fulfilling career
Looking back on the past 33 years, Anderson, 66, described himself as "outrageously blessed" to have worked with a great group of staff members and volunteers.
"It is one of the primary reasons we have been able to see such strong outcomes in the children and youth we have served," he said in a news release announcing his retirement. "It certainly hasn't been boring."
His final day will be March 31, capping off a long career as San Mar's 10th director, starting in 1985.
"When people talk about San Mar, they talk about Bruce," said Keith Fanjoy, director of San Mar's Bester Community of Hope project, who will succeed Anderson.
Fanjoy pointed to the thousands of children who Anderson has assisted and gotten to know personally over the years.
"They remember Bruce," he said. "He wasn't just a CEO that raised money and did other things. He was someone who took a personal interest in all the kids that were a part of the program. And I think that really speaks to his character and also his interest in why he's here."
After Anderson's arrival, San Mar expanded its programming to include treatment foster care, outpatient mental health services, prevention services through the Bester Community of Hope initiative, and six residential programs in Boonsboro and Cumberland that focused on the needs of adolescent girls.
Nearly 2,500 children have stayed in San Mar's residential and foster-care programs during Anderson's tenure, at a time when many programs were scrutinized.
During that time, San Mar was consistently recognized for maintaining a high standard of care, resulting in national accreditation. Anderson's efforts were highlighted by a 2005 story in The Baltimore Sun that called San Mar "one of Maryland's most highly regarded group homes."
Anderson said the Sun article was particularly memorable, especially because he was unsure the tone the story would have.
"We were acknowledged as a model program in the state," he said. "We always thought that, but when you had someone standing outside and really looking at it and comparing a lot of the different programs, and they stand back and say, 'This is a credible program' … that was pretty good."
Among his accomplishments, Anderson has led a number of wildly successful fundraisers for San Mar over the years, although he denies he would fit the mold of a "fundraiser."
In 2008, he raffled off a house, netting $250,000 and garnering international attention. An avid bicyclist, he started an annual ride down the Chesapeake and Ohio Canal that's now entering its 30th year and generates more than $100,000 annually.
Shifting services
As a result of a shift in community needs and clinical approaches, residential-care facilities have undergone changes in recent years, and San Mar has done so, as well.
In July 2016, San Mar finished phasing out its group homes for adolescent girls, opting to focus more on supporting children and families earlier in hopes of preventing the need for group care later in life.
"If we can have an influence to strengthen families so that their kids never had to come out of those families, how powerful, how life-changing that could be," Anderson said. "I'm not opposed to residential care … but the way in which the system is changed, funding programs like this are very difficult now. So we've made the decision to shift over."
A similar change happened in the 1980s, when orphanages essentially disappeared. Service providers moved toward a model focusing on clinical and behavioral health services, according to Anderson.
San Mar's focus now resides in three core programs — foster care for girls and boys, a new outpatient mental-health clinic and Bester Community of Hope, which Fanjoy has headed for a few years.
With Fanjoy's experience with that program, and others through his 12 years at San Mar, it created a logical point for Anderson to call it a career.
"I have every reason to believe that we will see the organization continue to grow and move forward," he said. "It's just the right time."
Blessing and a gift
When Anderson said he believes all people have a need to give, it even includes those who receive.
For example, Anderson recalled a program at Christmas in which community members were invited to buy gifts for the girls.
One year, a girl received a gift from a woman, but instead of reacting positively to receiving what the giftgiver thought she wanted, the girl pouted and appeared angry after unwrapping the present.
"You could tell the woman was just wounded by this," Anderson said. "So after it was over, I kind of processed it with the girl a little bit."
It provided a teachable moment for the rest of the group.
"As we talked about this, I pointed out to the girls: This lady is giving you a thing, but you have the power to give something to her," he said. "You have the power to bless her. You have the power to make her feel as if what she's doing is meaningful. That's in your power. … It was a revelation none of them had ever seen before."
The girls reacted differently the following year.
The girl who pouted the year before received a jewelry box with a broken door. She opened the gift, found the defect and rather than act upset, she smiled and simply acknowledged that it could be fixed or replaced with a new one.
"We have things to give and we don't even realize it," Anderson said. "Our ability to receive in a gracious way is actually giving, and we don't recognize it."
Anderson recounted his favorite memory from that day, watching as a 12-year-old girl opened her gift — a blue-jean skirt that she had always wanted — and "she just goes crazy."
Unfortunately, though, the skirt was entirely too big. But how did the girl react?
"She says, that's OK. They can exchange it for two of them."