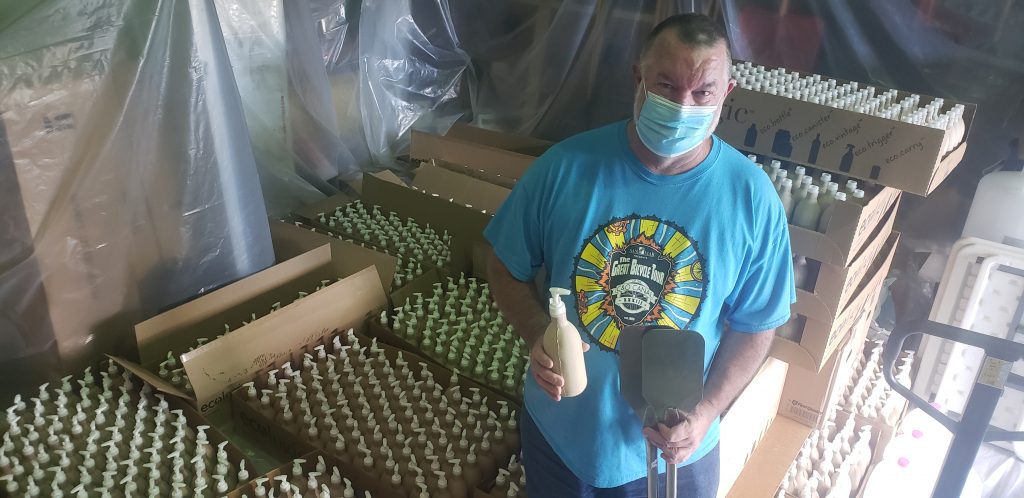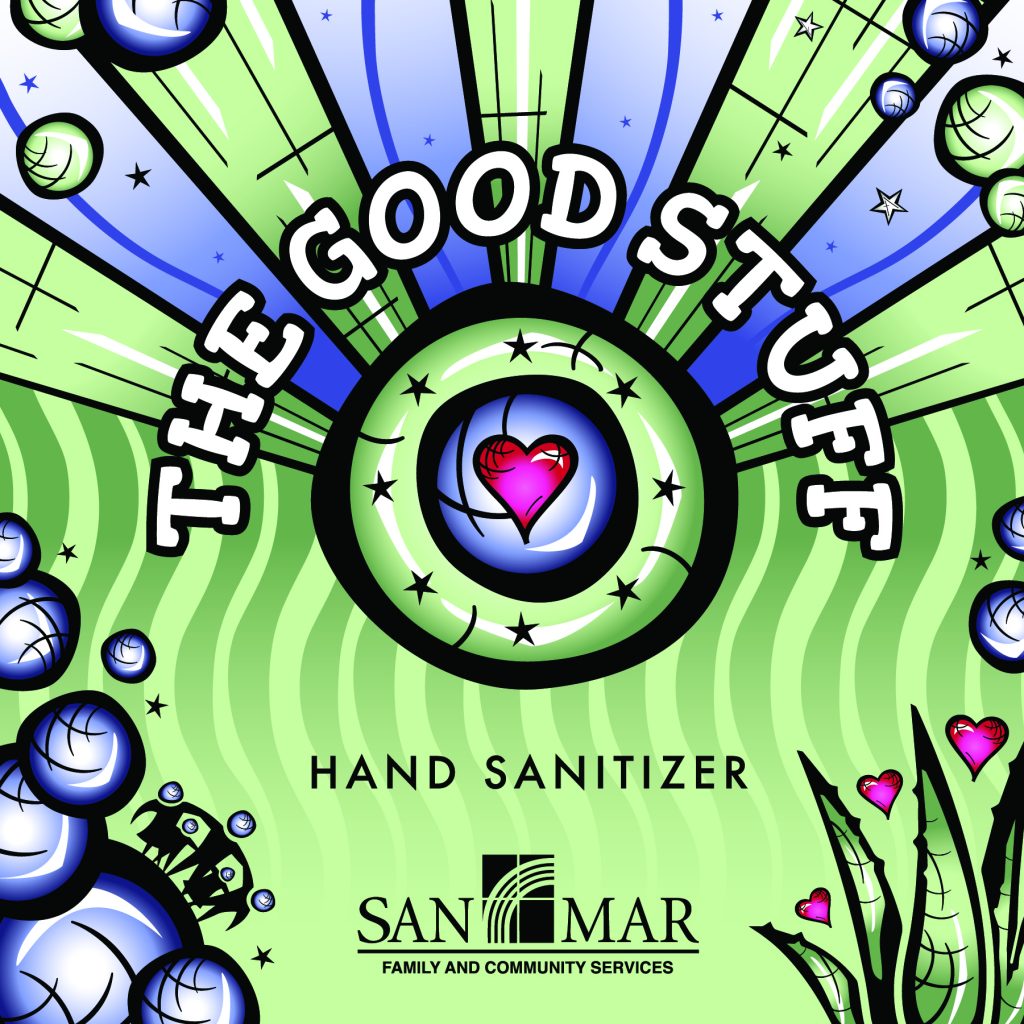 San Mar Family & Community Services has a 137-year-old history of meeting the needs of the community, with foster care programming, mental health services and community based resources to strengthen families. Like many organizations, when COVID-19 arrived in March, San Mar had to remain flexible and adapt to the changing needs of children and families. In the spirit of making lemonade out of lemons, faced with a lack of personal protective equipment, they found creative safety materials for families and then went the extra mile and developed their own hand sanitizer product: The Good Stuff.
In the Spring, all registered families at their Bester Health Center program in Hagerstown received a variety of PPE during different phases of the early months of COVID 19 including kid-friendly cartoon face shields, disposable gloves, and DIY mask kits to go along with various educational resources. These resources were delivered at a distance, door to door, to local families in the Bester school district by the Bester Community of Hope (BCOH) team. In addition, Proper Cloth, a New York based mask manufacturer donated 5000 medical grade masks to be distributed throughout the organization and community for staff and clients. As these hundreds of boxes of supplies were being distributed throughout the Spring and Summer another process was underway, a five-month journey to design, and ultimately produce local hand sanitizer.
San Mar CEO Keith Fanjoy explained, "It was as simple as identifying the need and responding to it, but from there it was a much more complex undertaking. We ran the gamut of all the needs of creating a new product, from scientific research for a formulation, risk management, supply chain and logistics during COVID, and ultimately safe manufacturing and distribution. The hand sanitizer we manufactured is a functional and safe product that we believe will support families to minimize potential risk to the COVID-19 virus."
All levels of San Mar worked together during the creation of the product, completing the initial run of close to 3000 16 oz. bottles, almost 1500 liters of hand sanitizer, with a formulation that includes 70% isopropyl alcohol, aloe and lemongrass oil, being distributed at no cost to organizations, partners and families specifically located in South End neighborhoods of Hagerstown. Recipients included local houses of faith; elementary, middle and high school teachers; the Community Free Clinic; children and families enrolled through the Bester Health Center; children and families enrolled through Community Triage Services at BCOH; local food distribution efforts and remaining product going to local healthcare and social services efforts.
Health promotion and concrete resources are some of the various community based efforts under Bester Community of Hope, the initiative of San Mar focused on stronger families and communities, and the ability to provide COVID-19 supplies for local families is made possible through the Health Resources and Services Administration (HRSA) and their Healthy Tomorrows Partnership for Children Program through the Maternal & Child Health Bureau, as well as the Alice Virginia and David W. Fletcher Foundation
Jerica Washington LCSW-C, Director of the Center of Well-Being at San Mar and HRSA grant liaison for the effort shared: "This is one small step in meeting needs during a time of uncertainty. We were happy to put ourselves in a space where we could do something in the area of physical health to ensure the well-being of our community."
To find out about the work occurring at San Mar Family & Community Services, learn more at  www.sanmarhope.org.