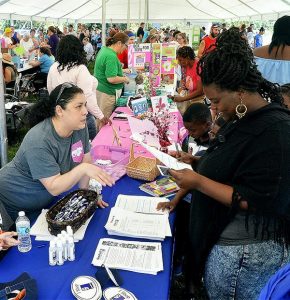 By Alicia Notarianni, Whats NXT
For the third consecutive year, Bester Community of Hope will celebrate the good things happening in the South End of Hagerstown with the South Side Community Block Party.
Only this year, rather than celebrating in the field at Bester Elementary School, the party will be shifted Hagerstown City Park's Peter Buys Band Shell.
"The biggest reason is that we had a larger turnout last year, and we know that with the kind of activities we have planned, we need a larger space to accommodate them," said Keith Fanjoy. "City Park is located in the Bester Elementary School district and it seemed like a good neutral site for hosting the event."
Fanjoy, who helped create Bester Community of Hope, is the project's former director and current chief executive officer of San Mar Children's Home in Boonsboro. Jen Younker took over as Bester Community of Hope director in July.
The community will be treated to free live music, games, local resource vendors, carnival games, train rides, laser tag and more from noon to 3 p.m. Saturday, Sept. 22. Bester Community of Hope is a San Mar Initiative with specific strategies for positive outcomes for the children and families of the Bester Elementary School neighborhood. The effort is one of 14 national sites supported by Casey Family Programs for safe reduction of the number of children placed outside the home through building a better community.
"The biggest catalyst when we began doing Bester Community of Hope work was to try to shift the narrative to focus on the good things happening in the South End of the Hagerstown community," Fanjoy said. "A community block party is a good way to bring together resources and families in the heart of the neighborhood where we are working to uplift and serve families."
In its first year, roughly 1,000 people attended the block party. Last year, there was an estimated crowd of about 1,700 people. This year, organizers are anticipating even more, Fanjoy said.
"The community has really taken ownership of the activities," he said. "There is nothing like being in the neighborhood where you live, celebrating all the good things going on, and having a good time while you are getting connected with resources. We will have a large number of community vendors so we can link families with local supports and resources."
Participating social institutions include Washington County Health Department, and the Washington County Department of Social services, which supports Bester Community of Hope in its preventative efforts.
"We'll have a lot of quality resources there that might help not just in times of need but just to help people get connected to local services that they may not be aware of," Fanjoy said.
City Park presented itself as a natural resource in the city's South End. It features attractions that some families might not yet have connected with on site and nearby, such as the Hagerstown Railroad Museum.
"There will be free rides on Tommy 202. We'll be able to highlight some of those great local resources and create access and awareness of them," he said. "There are other activities that will be run by volunteers who are neighborhood residents as well as staff members."
Featured musical entertainment is the Chuck Brown Band, which also performed last year and performs at similar events in the Washington, D.C., area and beyond.
"They are very popular and we received positive feedback. We are bringing them back in part because they bring this eclectic, fun, urban sound," Fanjoy said. "But what we really like about them is that they are also committed to a lot of the things that we are trying to do to strengthen neighborhoods and to support families."
In seeking other acts with common goals, block party organizers found New Orleans-based national act The Soul Rebels. The band played once before in Hagerstown at the 2011 Western Maryland Blues Fest.
"They fit with this event and also bring a fun, exciting sound to Hagerstown," Fanjoy said.
"The South Side Community Block Party is an opportunity for community organizations and residents and people from outside our area to come together and celebrate all the things that are going well. So often we are not able to do that," Fanjoy said. "I hope to see everyone there Saturday. Rain or shine, it's going to be a great time."
Top photo: Dolores Agrinzonis, left, a volunteer with Horizon Goodwill Industries, speaks with Hagerstown resident Bianca Cook, right, during last year's South Side Community Block Party event held on the grounds of Bester Elementary School in Hagerstown. (Herald-Mail file photo)
If you go …
WHAT:
South Side Community Block Party
WHEN:
Noon to 3 p.m. Saturday, Sept. 22
WHERE:
Hagerstown City Park, 501 Virginia Ave., Hagerstown
COST:
Admission to party is free. Concessions available for purchase.
CONTACT:
Go to
besterhope.org
or go to
South Side Community Block Party
on Facebook
  Source article:
https://whatsnxt.com/article/bester-community-hope-celebrates-good-things-happening-hagerstown?fbclid=IwAR1GXuxFbaKR5R_HKfoAw8xeAVMgA-NuoinigPFqFRQBx7lwp4rajJuZv8o